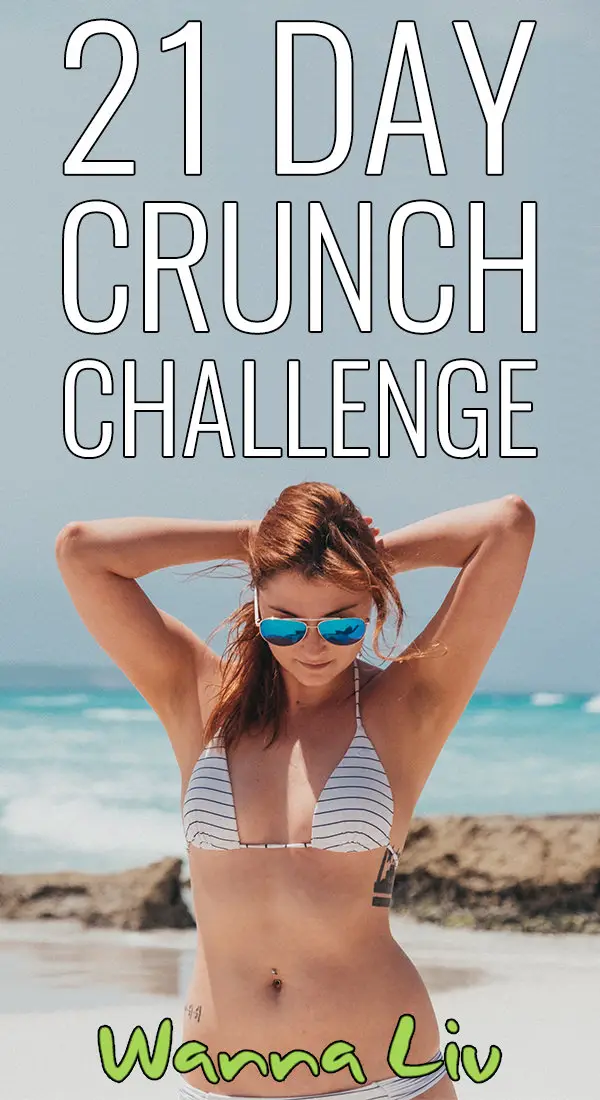 There is nothing like having a sleek body with nice abs to go with it.
Almost everybody is looking to trim their waistline.
This challenge is meant to give your abs a challenge!
Remember, this challenge isn't going to make your abs magically appear after the challenge is complete.
If you want and need to see the abs first, please adjust your diet and perform moderate to high-intensity aerobic exercise at least 3-5 times a week.
By the end of this challenge, you should be looking at doing 200 crunches in one workout!
Are you and your abs up for it?
Here are the exercises that go with this challenge:
Week 1
Day 1
Regular Crunch – 5 Reps
Bicycle Crunch – 5 Reps
Vertical Crunch – 5 Reps
Cross Crunch – 5 Reps
Frog Crunch – 5 Reps
Side Crunch – 5 Reps
Weighted Crunch – 5 Reps
Reverse Crunch – 5 Reps
Total = 40 Crunches
Day 2
Regular Crunch – 6 Reps
Bicycle Crunch – 6 Reps
Vertical Crunch – 6 Reps
Cross Crunch – 6 Reps
Frog Crunch – 6 Reps
Side Crunch – 6 Reps
Weighted Crunch – 6 Reps
Reverse Crunch – 6 Reps
Total = 48 Crunches
Day 3
Regular Crunch – 7 Reps
Bicycle Crunch – 7 Reps
Vertical Crunch – 7 Reps
Cross Crunch – 7 Reps
Frog Crunch – 7 Reps
Side Crunch – 7 Reps
Weighted Crunch – 7 Reps
Reverse Crunch – 7 Reps
Total = 56 Crunches
Day 4
Regular Crunch – 8 Reps
Bicycle Crunch – 8 Reps
Vertical Crunch – 8 Reps
Cross Crunch – 8 Reps
Frog Crunch – 8 Reps
Side Crunch – 8 Reps
Weighted Crunch – 8 Reps
Reverse Crunch – 8 Reps
Total = 64 Crunches
Day 5
Regular Crunch – 9 Reps
Bicycle Crunch – 9 Reps
Vertical Crunch – 9 Reps
Cross Crunch – 9 Reps
Frog Crunch – 9 Reps
Side Crunch – 9 Reps
Weighted Crunch – 9 Reps
Reverse Crunch – 9 Reps
Total = 72 Crunches
Day 6
Regular Crunch – 10 Reps
Bicycle Crunch – 10 Reps
Vertical Crunch – 10 Reps
Cross Crunch – 10 Reps
Frog Crunch – 10 Reps
Side Crunch – 10 Reps
Weighted Crunch – 10 Reps
Reverse Crunch – 10 Reps
Total = 80 Crunches
Day 7
Regular Crunch – 11 Reps
Bicycle Crunch – 11 Reps
Vertical Crunch – 11 Reps
Cross Crunch – 11 Reps
Frog Crunch – 11 Reps
Side Crunch – 11 Reps
Weighted Crunch – 11 Reps
Reverse Crunch – 11 Reps
Total = 88 Crunches
Week 2
Day 8
Regular Crunch – 12 Reps
Bicycle Crunch – 12 Reps
Vertical Crunch – 12 Reps
Cross Crunch – 12 Reps
Frog Crunch – 12 Reps
Side Crunch – 12 Reps
Weighted Crunch – 12 Reps
Reverse Crunch – 12 Reps
Total = 96 Crunches
Day 9
Regular Crunch – 13 Reps
Bicycle Crunch – 13 Reps
Vertical Crunch – 13 Reps
Cross Crunch – 13 Reps
Frog Crunch – 13 Reps
Side Crunch – 13 Reps
Weighted Crunch – 13 Reps
Reverse Crunch – 13 Reps
Total = 104 Crunches
Day 10
Regular Crunch – 14 Reps
Bicycle Crunch – 14 Reps
Vertical Crunch – 14 Reps
Cross Crunch – 14 Reps
Frog Crunch – 14 Reps
Side Crunch – 14 Reps
Weighted Crunch – 14 Reps
Reverse Crunch – 14 Reps
Total = 112 Crunches
Day 11
Regular Crunch – 15 Reps
Bicycle Crunch – 15 Reps
Vertical Crunch – 15 Reps
Cross Crunch – 15 Reps
Frog Crunch – 15 Reps
Side Crunch – 15 Reps
Weighted Crunch – 15 Reps
Reverse Crunch – 15 Reps
Total = 120 Crunches
Day 12
Regular Crunch – 16 Reps
Bicycle Crunch – 16 Reps
Vertical Crunch – 16 Reps
Cross Crunch – 16 Reps
Frog Crunch – 16 Reps
Side Crunch – 16 Reps
Weighted Crunch – 16 Reps
Reverse Crunch – 16 Reps
Total = 128 Crunches
Day 13
Regular Crunch – 17 Reps
Bicycle Crunch – 17 Reps
Vertical Crunch – 17 Reps
Cross Crunch – 17 Reps
Frog Crunch – 17 Reps
Side Crunch – 17 Reps
Weighted Crunch – 17 Reps
Reverse Crunch – 17 Reps
Total = 136 Crunches
Day 14
Regular Crunch – 18 Reps
Bicycle Crunch – 18 Reps
Vertical Crunch – 18 Reps
Cross Crunch – 18 Reps
Frog Crunch – 18 Reps
Side Crunch – 18 Reps
Weighted Crunch – 18 Reps
Reverse Crunch – 18 Reps
Total = 144 Crunches
Week 3
Day 15
Regular Crunch – 19 Reps
Bicycle Crunch – 19 Reps
Vertical Crunch – 19 Reps
Cross Crunch – 19 Reps
Frog Crunch – 19 Reps
Side Crunch – 19 Reps
Weighted Crunch – 19 Reps
Reverse Crunch – 19 Reps
Total = 152 Crunches
Day 16
Regular Crunch – 20 Reps
Bicycle Crunch – 20 Reps
Vertical Crunch – 20 Reps
Cross Crunch – 20 Reps
Frog Crunch – 20 Reps
Side Crunch – 20 Reps
Weighted Crunch – 20 Reps
Reverse Crunch – 20 Reps
Total = 160 Crunches
Day 17
Regular Crunch – 21 Reps
Bicycle Crunch – 21 Reps
Vertical Crunch – 21 Reps
Cross Crunch – 21 Reps
Frog Crunch – 21 Reps
Side Crunch – 21 Reps
Weighted Crunch – 21 Reps
Reverse Crunch – 21 Reps
Total = 168 Crunches
Day 18
Regular Crunch – 22 Reps
Bicycle Crunch – 22 Reps
Vertical Crunch – 22 Reps
Cross Crunch – 22 Reps
Frog Crunch – 22 Reps
Side Crunch – 22 Reps
Weighted Crunch – 22 Reps
Reverse Crunch – 22 Reps
Total = 176 Crunches
Day 19
Regular Crunch – 23 Reps
Bicycle Crunch – 23 Reps
Vertical Crunch – 23 Reps
Cross Crunch – 23 Reps
Frog Crunch – 23 Reps
Side Crunch – 23 Reps
Weighted Crunch – 23 Reps
Reverse Crunch – 23 Reps
Total = 184 Crunches
Day 20
Regular Crunch – 24 Reps
Bicycle Crunch – 24 Reps
Vertical Crunch – 24 Reps
Cross Crunch – 24 Reps
Frog Crunch – 24 Reps
Side Crunch – 24 Reps
Weighted Crunch – 24 Reps
Reverse Crunch – 24 Reps
Total = 192 Crunches
Day 21
Regular Crunch – 25 Reps
Bicycle Crunch – 25 Reps
Vertical Crunch – 25 Reps
Cross Crunch – 25 Reps
Frog Crunch – 25 Reps
Side Crunch – 25 Reps
Weighted Crunch – 25 Reps
Reverse Crunch – 25 Reps
Total = 200 Crunches